News
Welcoming new Anywaves Talents
Back to our news
2023 has been a year filled with significant events and developments for Anywaves. On one hand, we have seen an expansion of our product offerings across various application domains, an entry into the market for antennas designed for reusable launchers, and ongoing efforts towards obtaining ISO 27001 certification. In addition to these milestones that have marked Anywaves' evolution as an organization, this year, especially in the last few months since August 2023, we had the pleasure of welcoming six new talents. Each of them brings unique skills and expertise to our five various departments. Today, we're happy to take you behind the scenes of the Space Antenna Makers and introduce you to the new talents who will contribute to every step of our processes.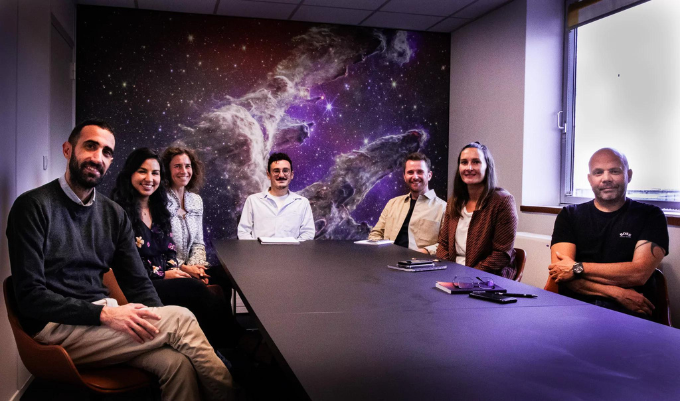 Let's begin with the Technical Project Department. Leading this department is Guillaume Bourdais, overseeing three main divisions: one dedicated to Antennas Design, another to Industrialization, and the last one to Production. Within the Design division, Haris Stoumpos has joined the team as a Research and Development Engineer in the RadioFrequency field. He will be involved in a variety of projects related to antenna development, both off-the-shelf and for innovative technologies, playing a vital role in various studies. 
The space industry is distinguished by its stringent quality requirements for our products. Among these requirements, our customers have high expectations for delivery deadlines. In order to meet our client's requests, it all starts in the production department led by Alexandre Loustau-Chartez, who welcomed two new members. Beginning with Angélique Galzy as a Supply Officer. Her main role will be to contribute to procurement strategy and monitor product purchases while identifying risks associated with supplier markets and products. Angélique will join forces with Damien Girona, our new Product Quality Assurance Engineer, who will ensure the highest quality standards for our antennas and space equipment, enhancing our product testing processes to contribute to our overall success.
In addition to the Technical department, the Communication Department plays a crucial role in representing our brand image effectively. The aim of the Communications department is to ensure that Anywaves is well-represented in the international space market. This also involves fostering internal communication among every team member's department to ensure that we communicate effectively and represent the work of all departments to our customers. Therefore, our Head of Communication, Emilie Genoudet, and our Brand Visual Manager, Axel Sami Vilotti, will join forces with a new member: Zineb Youssefi, who takes on the role of Communication Manager. Zineb will actively participate in deploying internal and external communication strategies to establish our presence on the international scene.
Furthermore, in every field of activity, in-depth administrative, financial, and legal analysis and scrutiny are essential, especially in the space industry, which demands a certain level of agility within the international legal framework. As a result, our Administrative, Financial, Legal, and Procurement Department has welcomed a new team member: Pierre Stipon, an In-house Legal Expert. Pierre will collaborate closely with various departments, such as Sales and Marketing, to provide support and advice. In this way, our team has grown with the addition of six new Anywaves Talents, whom we are thrilled to welcome as team members. 
In closing, as we reflect on the events and developments that have shaped Anywaves in 2023, it's evident that this year has been marked by growth, innovation, and the infusion of fresh talents. The arrival of five creative minds to our team signifies a new chapter in our journey. Each one of them brings a unique set of skills and expertise, enhancing our capabilities across various departments, from technical prowess to communication finesse and legal acumen. If you want to find out more about who they are, you have got it all here! Together, they exemplify our dedication to excellence and our vision of becoming leaders in the space antenna industry.
Thank you for joining us on this journey, and here's to an exciting and prosperous future for Anywaves and the remarkable talents who make it all possible !
If you want to stay updated about our job opportunities, visit our Join Us page!
Contact
us
If you have any question, we would be happy to help you out.
Close
Search through our content