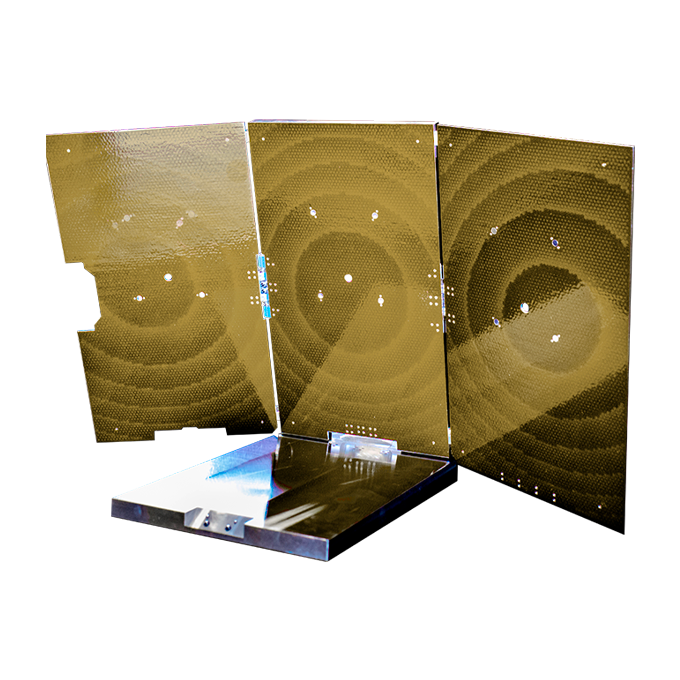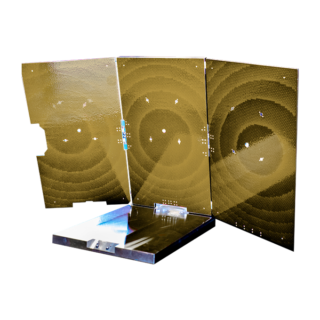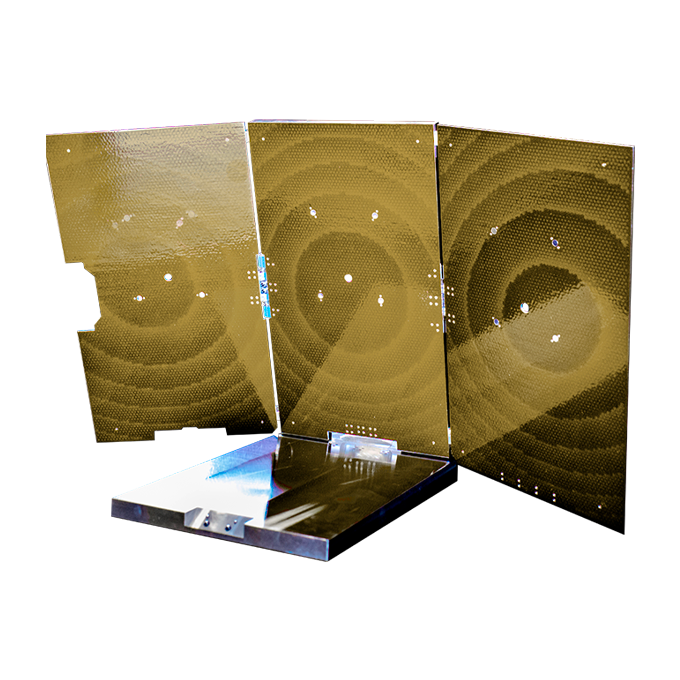 Description
The reflectarray technology paves the way for advanced communication systems, extending beyond solar missions to encompass high-data rate telecommunications on small satellites. It facilitates the development of advanced downlinks and inter-satellite connections, with a particular focus on enabling long-distance communications between Earth and small satellite platforms.
This innovative technology effectively emulates the performance of a parabolic reflector but utilizes flat panels instead. These panels are folded over each other and then folded again onto a carrier when not in use, allowing for compact storage and easy deployment. This compact and deployable design is well-suited for the space-constrained environments of small satellites.
The flat panels of the reflectarray antenna possess reflective properties for radio frequency (RF) waves and enable local control of the phase of the reflected waves. Additionally, the antenna incorporates a robust structure to ensure stability and rigidity.
Furthermore, mechanisms such as folding and/or panel guiding mechanisms, positioning and/or locking devices between the lateral and central sections, and passive thermal control are implemented to enhance the antenna's functionality.
The reflectarray operates across a frequency range spanning from X to Ka bands. Notably, the Ka-band frequency is particularly suitable for long-distance communications, making it ideal for missions to distant destinations such as Mars exploration.
Please note that our reflectarrays are not a COTS (Commercial Off The Shelf) product. They are custom-made upond demand, hence why we do not have a generic datasheet to provide.
For further information about our reflectarrays, we invite you to get in touch with us!
Read more
Polarization
Dual-circular polarization
Included services
Requirement Definition
At Anywaves, we specialize in delivering custom-made antennas tailored to meet your unique requirements. Our expertise allows us to understand your specific needs and translate them into antenna specifications. We work closely with you to identify key parameters such as frequency bands, gain, beamwidth, mechanical constraints, and environmental considerations. Our team of experienced engineers collaborates with you throughout the process, ensuring that the antenna design aligns precisely with your application's demands. With our deep understanding of your needs and attention to detail, we guarantee antennas that deliver optimal performance and reliability for your specific use case.
Project Management
Our goal is to ensure a seamless and successful antenna development process. Our experienced spatial project managers are skilled in coordinating all aspects of your custom-made antenna project, from initial concept to final delivery. With meticulous planning, effective communication, and diligent resource allocation, we ensure that your spatial project stays on track through key milestones (PDR, CDR, TRR, TRB…). Our project management expertise enables us to navigate complex challenges, mitigate risks, and provide you with regular updates on project progress.
Technical Expertise
Our team of skilled engineers has extensive experience in antenna design and development, as well as in the space and defense industries. We leverage the latest tools and technologies to develop innovative antenna solutions that meet even the most complex challenges. With our technical expertise, we can optimize key parameters such as gain, bandwidth, radiation pattern, and impedance matching to deliver antennas that excel in your specific application. Moreover, we keep a pragmatic approach in mind and submit our antennas to an extensive testing process in order to mitigate the risks throughout the project.
Extensive Documentation
At Anywaves, we understand the importance of comprehensive and accurate documentation for your custom-made antenna projects. We make sure to create clear and concise documentation that covers all aspects of the antenna design, specifications, testing procedures, and installation guidelines. In addition to our standard EIDP package, we also deliver throughout the project all the design justification that you may need : RF, mechanical, thermal, radiation analyses ; test plan ; test reports… We make sure to deliver documentation that adds value to your project and guarantees that your antenna is compliant to your needs.
Contact
Us
Get in touch to get a quote or receive additional information on this antenna.
Close
Search through our content